Dr. Andreas Dolzmann
Field of Duties
Scientific Staff member
Head of divison "Seminars and Workshops"
Head of Dagstuhl Office in Saarbruecken
Background
Andreas Dolzmann studied Computer Science at the University of Passau. After graduating as "Diplominformatiker" (comparable to Master of Science in Computer Science) in 1995, he worked as a scientific assistant for the Chair of Computer Algebra, and he successfully defended his PhD thesis titled "Applicable Real Quantifier Elimination" in 2000. He continued working as a research assistant at the University of Passau until 2006, when he habilitated with his thesis titled "Integrated Quantifier Elimination". He continued his research at the University of Passau as an assistant professor until 2009.

Since 2010, Andreas Dolzmann has been a member of Schloss Dagstuhl's scientific staff. He was named head of the Dagstuhl Office in 2018 and has been in charge of the "Seminars and Workshops" division since 2021.
Selected Research Conbtribution
Almost all of my publications can be found on dblp.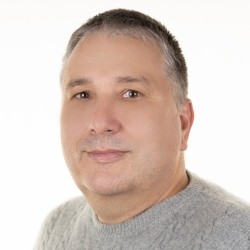 Dr. Andreas Dolzmann
---
Seminar Management
Head of division "Seminars and Workshops"
---
Contact Seminar Proposals
Contact Dagstuhl Seminars
Contact Summer School
---
Saarbrücken Office
Geschäftsstelle Schloss Dagstuhl
Universität des Saarlandes
Campus E1 1, Räume U13-U24
66123 Saarbrücken, Germany
+49 6871 / 905 204